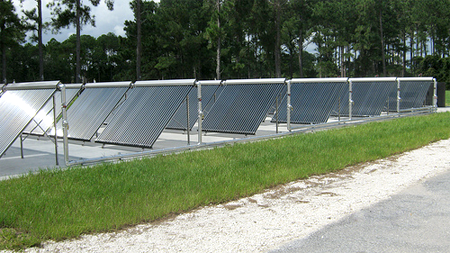 Easy Energy installed a significantly sized solar water heating installation in a senior living community to show the full benefits solar projects have to offer.
The Phoenix-based company installed 600 hot water solar collectors to meet the demands of up to 85% of the water requirements for the senior living center. The thermal collectors are able to supply a sufficient volume of heated domestic water for the 650 residents, while also heating 2 of the community's swimming pools.
Easy Energy are looking at the viability of installing more of these multi-family projects in the larger community projects as they are a far-sight more cost-effective than the alternative of installing 600 individual solar systems on individual homes.
The executive director of the Fellowship Square believes that the installation of the solar installation with the central boilers will have a significant impact on the community and will be more sustainable and cost-effective for the facility.
Beyond the thermal collectors installed on the carports, the installation also consisted of hot water storage tanks at 17,000 gallons which will effectively harvest the daytime water supply, and offer a perfect supplement for the existing boilers at the senior living community.
Taking a long-term view, it is believed that this type of large solar water heating installation provided by the Arizona solar company is a perfect fit for the larger size developments, and will certainly go on to play off in relation to overall operational efficiency and costs.