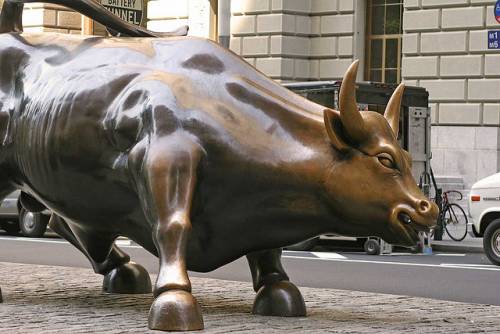 Image credit: Joel under a creative commons license.
A portfolio that didn't include traditional utilities used to be investment blasphemy.  Now, financial powerhouses predict a solar-powered future.
In the face of a global decline in electric utility stocks, Wall Street and global financial players are throwing their lot in with solar.  Barclays is the most recent to publicly announce going long on distributed energy, coming on the heels of utility downgrades from Bank of America, Goldman Sachs, UBS, and Citigroup.
"…we believe that a confluence of declining cost trends in distributed solar photovoltaic (PV) power generation and residential-scale power storage is likely to disrupt the status quo. Based on our analysis, the cost of solar + storage for residential consumers of electricity is already competitive with the price of utility grid power in Hawaii. Of the other major markets, California could follow in 2017, New York and Arizona in 2018, and many other states soon after."
Due to heavy government subsidies from China, Germany, and the U.S., investors have been reluctant to show long-term support for solar.  The Solyndra debacle and similar collapses in China have made fund managers skeptical of long-term bets on large solar players.
However, undeniable improvement in solar's cost-competitiveness with traditional utilities is ultimately the death-knell for utility investment as a "defensive" strategy.  Banks need look no further than historic losses posted by German utility RWE ($3.8 billion) to see what the future holds for markets where solar has a major foothold.
And with China gaining worldwide market penetration in solar energy, experts believe that future is likely to expand beyond heavily-invested European nations.