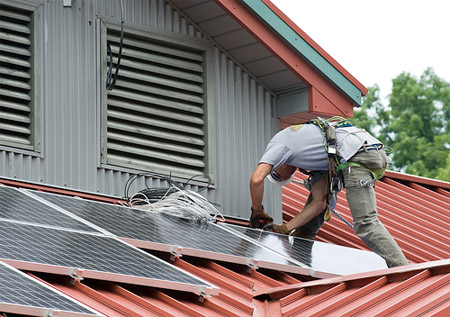 Looking for Cheap Solar Power?
Sure, solar power is expensive–at least upfront. While solar panels are about the only home upgrade/investment that will ever pay themselves off, you still might be looking for cheaper options to get off the grid.
So what can you do? Essentially it boils down to either finding the cheapest solar installer in town, joining a group discount, or sourcing cheap solar panels or materials and doing it yourself. While building your own solar panel is definitely cheap, that doesn't mean it's going to be cost effective (or even doable) based on your skills, experience, and the time you have available.
Option #1: Who's the Cheapest Solar Installer in Town?
If you're feeling lucky you can try perusing the yellow pages or (heaven forbid) wading through a lot of Google spam to find the cheapest reputable solar installer in your area. If that doesn't sound like fun you can try signing up here (free, 60 seconds) to have local solar installers call you to bid for your business. It's easier to compare solar quotes when they're dropping at your feet.
If all that seems overwhelming, you can check to see if there's a local group discount available. You can also get all your questions answered (for free) about solar power and what the best (and cheapest) options are.
Option #2: Go the DIY Solar Route
Used solar panels and solar kits are some of the cheapest options out there. Of course, this assumes you're a DIY type of person and you don't want a complete plug and play option. And yes, it is even possible to build your own solar panel if you're feeling particularly crafty.
Often, solar panels that are installed along highways or in large commercial establishments get damaged or the solar cells get chipped. These panels are then declared unfit for use in such places. Unlike other devices, solar panels have a high manufacturing cost and aren't just thrown away once they are pronounced unfit. Most often these used solar panels are sold off at a lower price in the open market.
A cheap yet effective method to invest in solar power is buying used solar panels. After extended use the efficiency of solar panels is lower than the original but this hardly matters when used for residential purposes. A second-hand solar panel shows performance efficiency varying from 40% to 90%. In most cases this is more than adequate to meet residential needs.
A do-it-yourself solar energy kit is also a cheap option to setup your own solar panel. Most kits are easy to install and are less costly compared to full time professional installations, but they aren't going to be as big or as powerful. While some used panels can be had for free, most solar panels cost very little ranging from $100 to around $400 for a home setup. A DIY solar kit can give you a solar panel at less than $200.
Though cost is important, a used solar panel should always be tested with a micrometre for proper functioning. In this respect professional installation is more reliable and secure (they come with a warranty).
It's also extremely important to keep one thing in mind: if you aren't a licensed electrician, it's illegal for you to do your own home wiring. We wish you the best of luck finding cheap solar power for your home.