There are all kinds of portable solar power systems, from pocket-sized phone chargers to battery backup systems for your home.
Portable solar products range in both size and quality, and probably the most important thing to keep in mind that small, cleverly arranged panels aren't necessarily going to provide enough charge to power an iPhone. But if you have some major off-site power-generation needs, or you want a battery backup for your home, there are numerous industrial systems to choose from.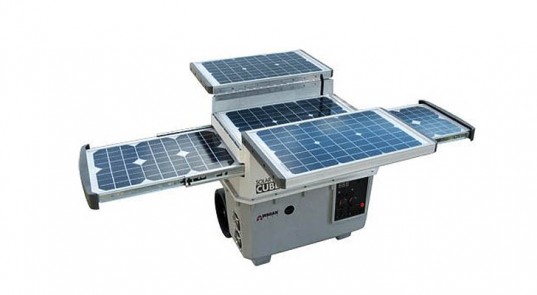 Our favorite example of this kind of technology is the Wagan Tech Portable Solar Power Generator, shown above. The solar cube shown above includes both the solar inverter as well as an AGM/gel hybrid battery. There are several power capacities for the unit, up to 1500W. These units cost somewhere in the neighborhood of $1100.
If you're looking for something smaller, you can always check out the selection of solar chargers at your local REI.
You can even have a custom portable solar array built based on your specific needs, just get in touch with portablesolarpower.biz.